SignalCore's New Signal Generator

30 August 2019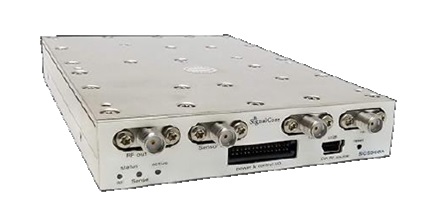 SignalCore, an American company, has released the new SC5507A / SC5508A signal generator to complement its respective product family. The generator is a relatively small module manufactured on the PXI Express platform (SC5507A) or with USB-SPI-RS232 (SC5508A) interfaces for desktop use.
The new model is characterized by a wide band of operating frequencies, a significant range of the amplitude of the output signal, high resolution in frequency and amplitude of the output signal, one of the lowest phase noise levels among the models on the market. The device also has an additional input port, the signal from which is fed to the built-in power detector.
Key features of the new generator:
operating frequency range: DC - 6.25 GHz;
frequency resolution: 0.001 Hz;
maximum switching time: 750 μs;
reference generator frequency: 10 MHz;
general range of the output signal amplitude: -50 ... + 15 dBm;
step of changing the amplitude of the output signal: 0.01 dB;
phase noise level (1 GHz): -90 dBc / Hz (100 Hz), -126 dBc / Hz (1 kHz); -138 dBc / Hz (100 kHz);
phase noise level (6 GHz): -75 dBc / Hz (100 Hz), -111 dBc / Hz (1 kHz); -124 dBc / Hz (100 kHz);
level of spurious components (50 kHz - 3 MHz from the carrier): < -70 dBc (25 MHz - 3 GHz);
supply voltage: 10 - 15 V;
maximum current: 2.7 A (12 V);
maximum power consumption: 24 W;
dimensions: 93.98 x 19.05 x 146.05 mm;
weight: 0.45 kg
SMA connectors are installed on the high-frequency ports. The new SignalCore generator is designed for use in systems where a large dynamic range and very high spectral purity of the generated signals are required.
For more information, please contact Radiocomp LLC (www.radiocomp.ru)